LAWMA'S PROFILE 
The Lagos Waste Management Authority(LAWMA), formerly known as Lagos State Refuse Disposal Board (LSRDB) at inception was established in 1977 vide Edict No. 9 of 1977 when it was glaring during Nigeria's preparation for Festival of Arts and Culture (Festac '77) that the then two Local Government Councils, namely Lagos Island and Lagos Mainland, could not cope with the volume of waste resulting from the oil- boom stimulated economy and its attendant influence on migrants into the new capital city from the rural and less developed areas of Nigeria and neighbouring West African countries.
VISION/MISSION STATEMENT
Vision
To improve environmental sustainability, achieve a cleaner, healthier Lagos and to be the hallmark of Waste Management Regulatory practices in the African region.
Mission
We are committed to achieving efficient waste management system by employing adaptable solutions and best practices as well as encouraging regional integration and customer focused service delivery methods.
Primary Responsibility at Inception
At its inception, a firm of expatriates – Messrs. Powell Duffyrn Pollution Control of Canada was contracted to manage refuse collection and disposal, which commenced within only two Local Government Councils, namely Lagos Island and part of the Mainland.
Renaming into Lagos State Waste Disposal Board with Additional Responsibilities
On 13th March, 1979 the Board was officially commissioned and renamed Lagos State Waste Disposal Board (LSWDB) with additional responsibilities for cleaning primary and secondary drains within the metropolis. The following responsibilities were similarly added over the years:
Commencement of the collection and disposal of industrial waste (1980)
Commencement of intermittent emergency flood relief operationoperation during rainy season (1981).
Collection and disposal of scraps and derelict/abandoned vehicles (1981).
Removal of illegal structures erected on the required setback from roads as well as those impeding the cleaning of drains/drainage channels (1984).
Commencement of litter control action within the metropolis (1984).
Renaming of the Board into Lagos State Waste Management

Authority (LAWMA)
In December 1991, the name Lagos State Waste Management Authority was christened vide Edict No 55 which made the agency to be responsible for the collection, transportation and disposal of municipal and industrial waste as well as the provision of commercial waste services to the state and Local Government Councils.
The Authority was renamed Lagos Waste Management Authority in March 2007 vide LAWMA Law No. 5 cap. 27, Vol. 40 of 2007.
Restructuring into a Regulatory Agency
By provision of Environmental Management & Protection Law of 1st March, 2017 the Authority is re-positioned from an Operator/Regulator into a full Regulator in the Waste Management Sector, in line with Cleaner Lagos initiative. By this arrangement, public waste operations, Domestic Waste Operations, Waste Management Operations, Landfill
Operations and Transfer Loading stations have been concessioned to private sector participants, while LAWMA will guide, model and appraise these practitioners in line with international best practices.
THE PRESENT DAY LAWMA
Ever since the current Managing Director/Chief Executive Officer of LAWMA, Mr. Ibrahim Odumboni, assumed office at LAWMAin2020, the Authority has embarked on many modern-day strategies targeted at ensuring that the task of making the Lagos metropolis sustainably clean is achieved.
Odumboni, who is trained on Leadership Principles at Harvard Business School and in Circular Economy and Sustainability Strategies at the University of Cambridge Judge Business School, has introduced various initiatives, propelling the agency to new heights and meeting the waste management needs of residents in the state.
CORE OPERATIONS/INITIATIVES
The amount of waste generation in Lagos State continues to increase along with rapid increase in population, accelerated urbanization, industrialization pace, economic growth, business activities and consumption patterns; all these directly and indirectly drive up solid waste quantities from households, commercial institutions, industrial concerns and market outlets. In a bid to achieve a cleaner and livable Lagos, the Authority has continued to plan and implement programs and activities, not only to meet the ever expanding challenges, but also to prepare for future challenges.
The Authority has continued to consolidate on efforts made on environmental sustainability, adopting the following strategies in meeting the waste management needs of residents in the state:
RECYCLING
Lagos Waste Management Authority (LAWMA), in ensuring that waste sorting and recycling message is taken to every nook and cranny of the state, began the distribution of bins at markets, malls, schools and other public spaces for segregation of recyclables, in line with the Lagos Recycle Initiative.
 The placement of the bins, strictly designed for collection of recyclable items like PET bottles, aluminum, cans and other plastic waste, was meant to sensitize and encourage residents to imbibe the culture of waste segregation at points of generation.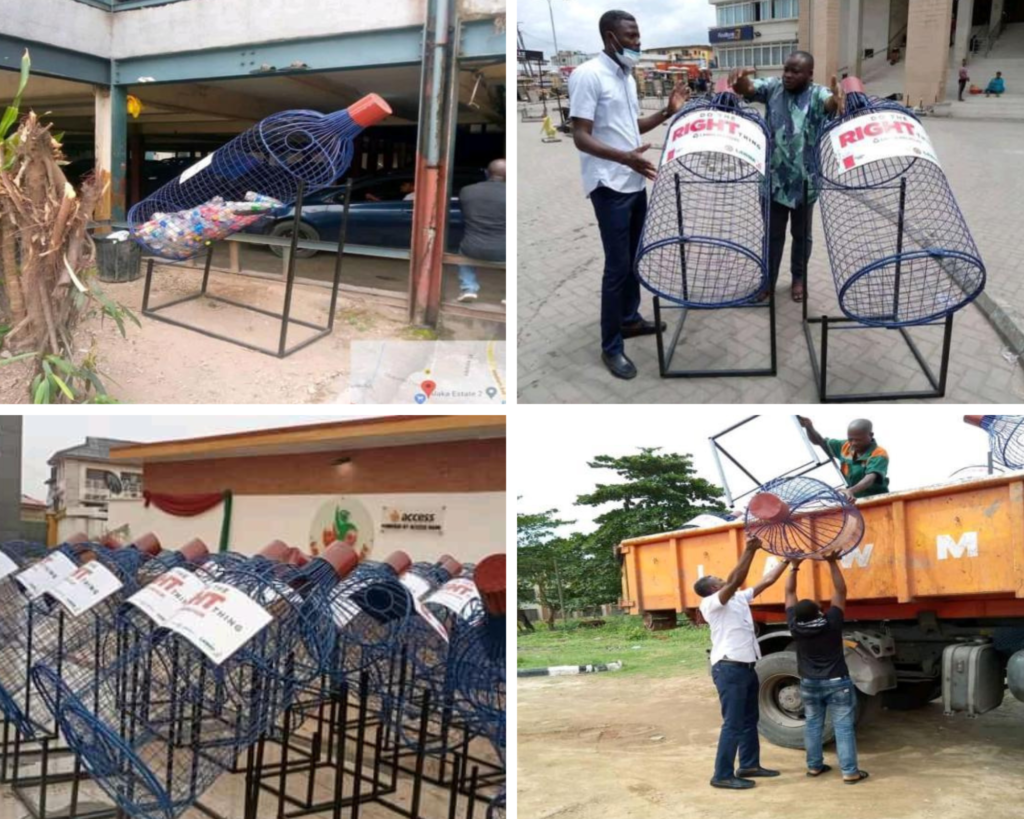 MARINE WASTE
Lagos State has a land area of 3,577 Square Kilometres of which (17%) is aquatic (i.e. oceans, rivers, lagoons, creeks, etc.) Therefore, the initiative of marine waste collection was conceived, to regularly cart away floating waste/refuse from blocked channels and coastal lines, to prevent flooding in anticipation of heavy rains and in line with the State's policy direction on constant clean-up of waterways, to enhance a cleaner and aesthetic environment.
Accordingly, the Marine Waste Services are aimed at ensuring refuse/litter free shorelines, evacuation of pet bottles and clearing of water hyacinth (i.e. onshore and of shore services). Furthermore, it is important to mention that the Marine Waste Services of LAWMA is in collaboration with the Food and Beverage Recycling Alliance (FBRA), to build a sustainable recycling economy, through collection of pet bottles within the waterways of the State.
The Authority, through the Marine Waste Unit, has accomplished the following:
• Acquisition of new boats to boost marine waste operations in the state.
• Collaboration with the Food and Beverage Recycling Alliance(FBRA) on collection of PET bottles within the Lagos waterways.
• Clearance of waste from canals and shorelines within the state for the well-being of Lagos residents.
• Engaging youths within riverine and poor communities to increase employment generation of the State for improved per capital income.
• Constant training and exposure of youths to the best practices in marine waste operation.
• Constant cleaning of shorelines and canals,leading tothepreservation of aquatic flora and fauna in the State.
• The effect of waterways clean-up within the State is reducing therateof epidemics (i.e. cholera, meningitis, malaria etc.)
• Provision of suitable environment for marine and eco-tourism. 
• Preservation of storm water in–let into the lagoon and creeks.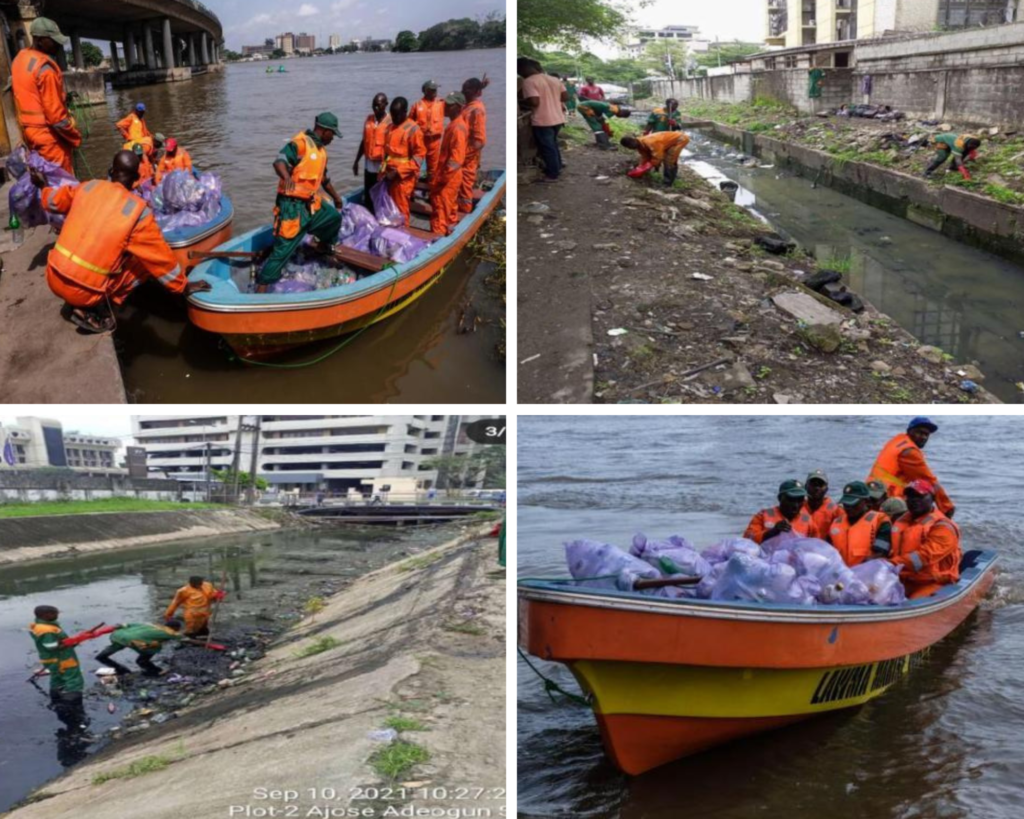 LAWMA ACADEMY
The educational arm of the Authority, LAWMA Academy, within the period under review, had played a critical role in promoting environmental sustainability in the state, especially among the younger generation. Notably, LAWMA Academy collaborated with the Lagos State Universal Basic Education Board, (LASUBEB), to incorporate waste management in the curriculum of primary schools in the state, as a way of reorienting the younger ones on sustainable environment.
FRANCHISE AGREEMENT WITH PSP OPERATORS
The Authority, within the same period, signed a five-year agreement with the PSP operators, with the sole objective of enhancing their operational capabilities, boosting their confidence and assuring them of government's commitment to ensuring their sustainability.
COMMISIONING OF 102 TRUCKS, 100 DOUBLE DINOBINS
On 4th August 2021, the Authority organised the commissioning of 102brand new waste collection trucks and 100 double dino bins by the Governor, Mr. Babajide Olusola Sanwo-Olu, to strengthen waste management operations in the state, and to consolidate on the efforts to make the environment cleaner and livable for all Lagosians.
CONSTRUCTION WASTE
Construction, Demolition and Disaster Waste Management is a segment of LAWMA'S waste management activities. The core mandate is the evacuation and disposal of construction waste in Lagos State. The target for CDDW is to ensure all waste streams are captured from sites. In line with this, the Authority had begun the deployment of heavy duty equipment to handle the evacuation of waste emanating from construction and demolition activities in the state.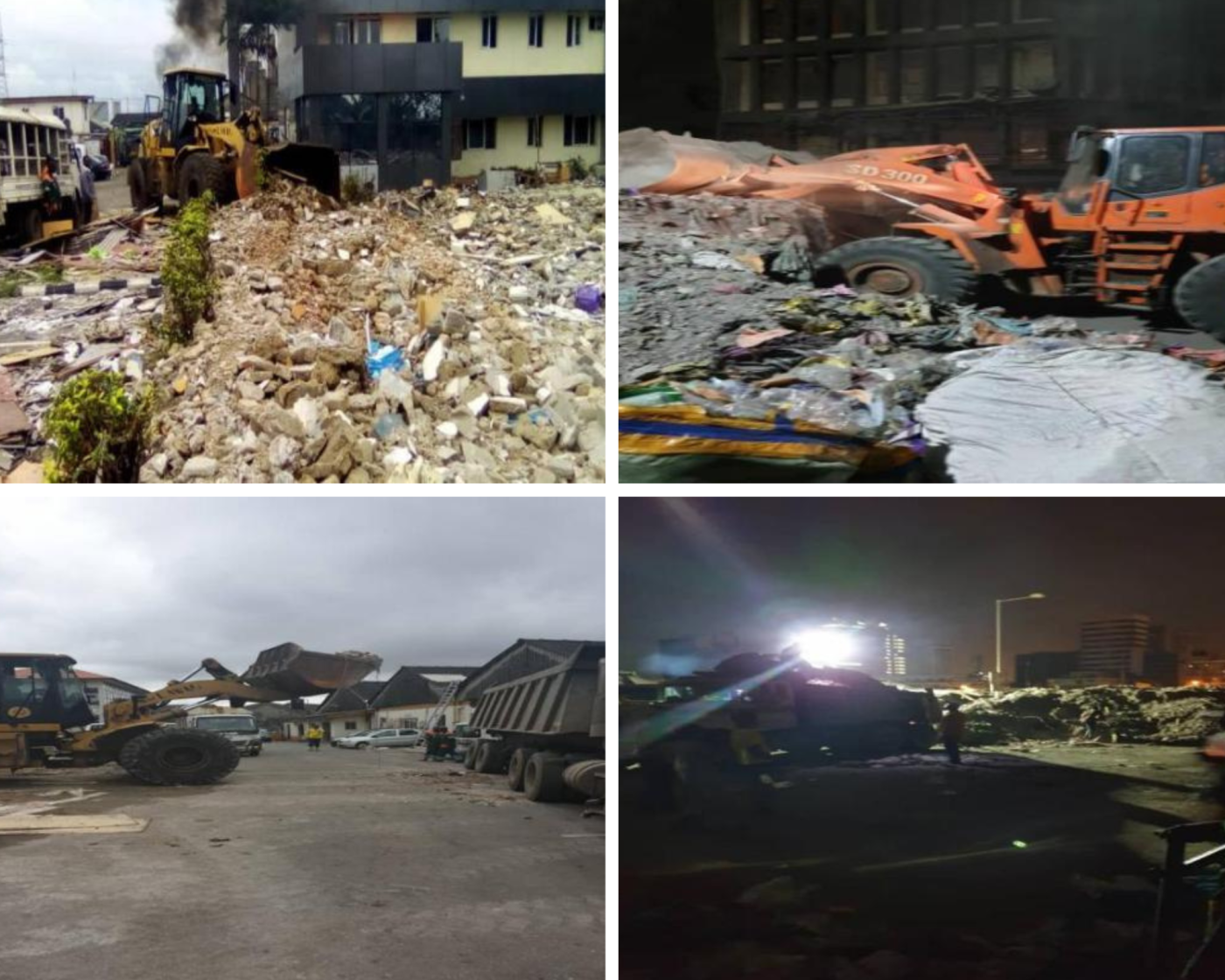 THE ADOPT-A-BIN PROJECT
The Lagos State Governor, Mr. Babajide Sanwo-Olu launched the "Adopt-a-Bin" program, under which every tenement, is expected to procure waste bins, for the containerisation of wastes, towards helping the state achieve its overriding objective of a clean cityscape. The project was fashioned to meet the waste management needs of residents, going a long way to curb the menace of indiscriminate waste disposal around the metropolis.

ENFORCEMENT/WASTE POLICING
The Authority, since the inception of the present administration, had stepped up its public policing and enforcement drive across the city, to stem the tide of indiscriminate waste disposal. Shops, houses, markets and other locations had been sealed by the LAWMA Enforcement Team, to serve as deterrent to residents who might be tempted to engage in the act of improper waste disposal. Environmental defaulters had also been charged to court for various infractions.

STREET SWEEPING/HIGHWAY SANITATION
LAWMA in a bid to ensure that roads in the state are always in a sparkling form is consolidating on the street sweeping/highway sanitation scheme, with the deployment of sweepers across the state. The agency currently has 6,743 sweepers and 219 supervisors.
The effects of the street sweeping and highway sanitation program include:
• Improved sanitation level across the state
• Partnership with NGOs and corporate organizations for clean-upoperations at different locations within the state.
• Unclogging of canals and drainage channels
• Improved used tire collection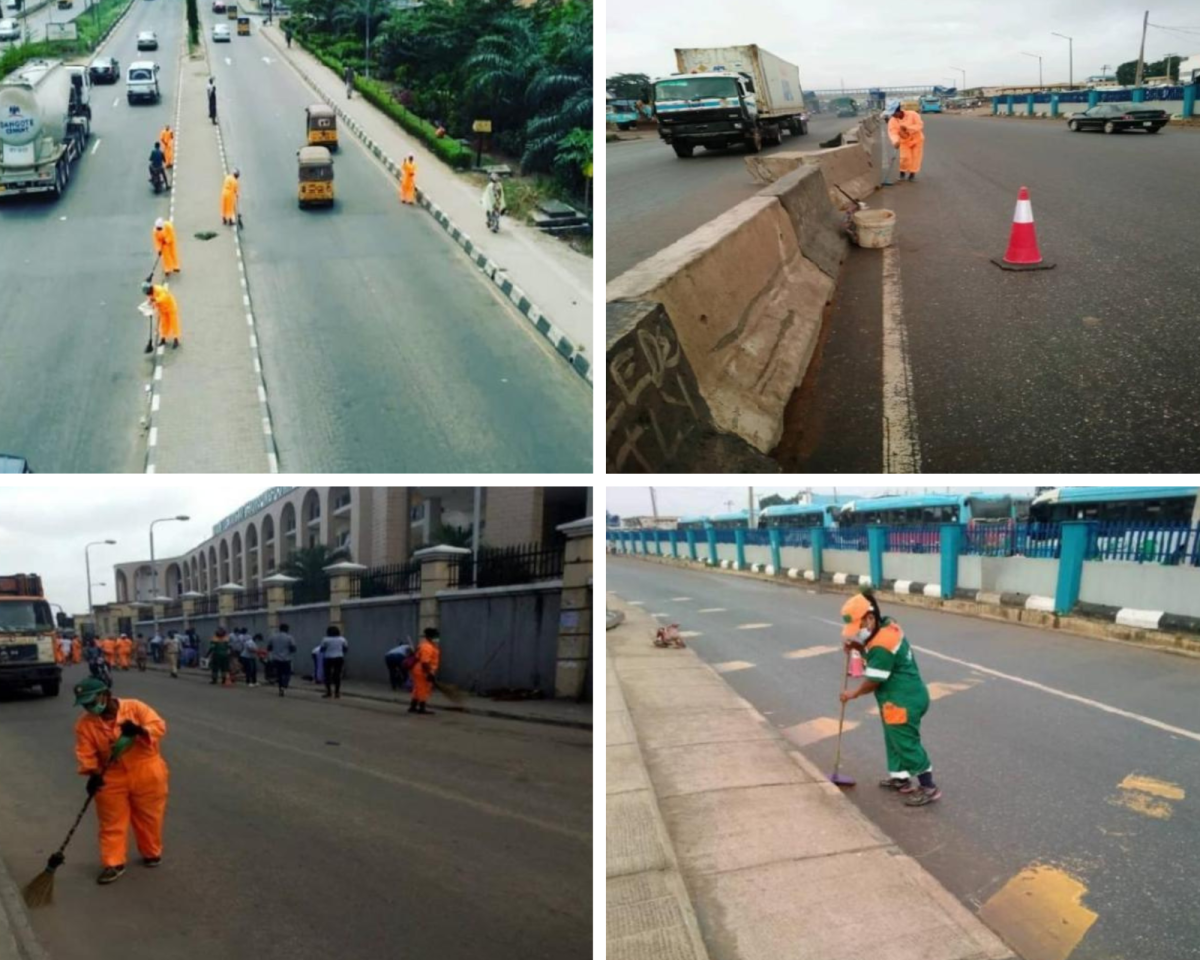 INSURANCE COMPENSATION TO HIGHWAY SWEEPERS
The Authority presented cheques in various sums of money, to highway sweepers, involved in workplace accidents, as part of the insurance policy to safeguard the well-being of sanitation workers in the state.
REHABILITATION OF LANDFILLS
Lagos Waste Management Authority (LAWMA), commenced full
rehabilitation, including capping of some landfills in the state (Olushosun, Solous, Epe, Ikorodu and Badagry), in a bid to achieve faster turn-around time and easy access by waste disposal trucks. The rehabilitation was partly aimed at reducing the level of leachate contamination of the surrounding surface of the landfills and their groundwater, and to restore the sites close to their natural state.
FABRICATION OF DOUBLE DINO BINS
The Authority via its Engineering Department, design and fabricate double dino bins ,to boost its quest of having needed equipment to meet the waste management needs of residents in the state.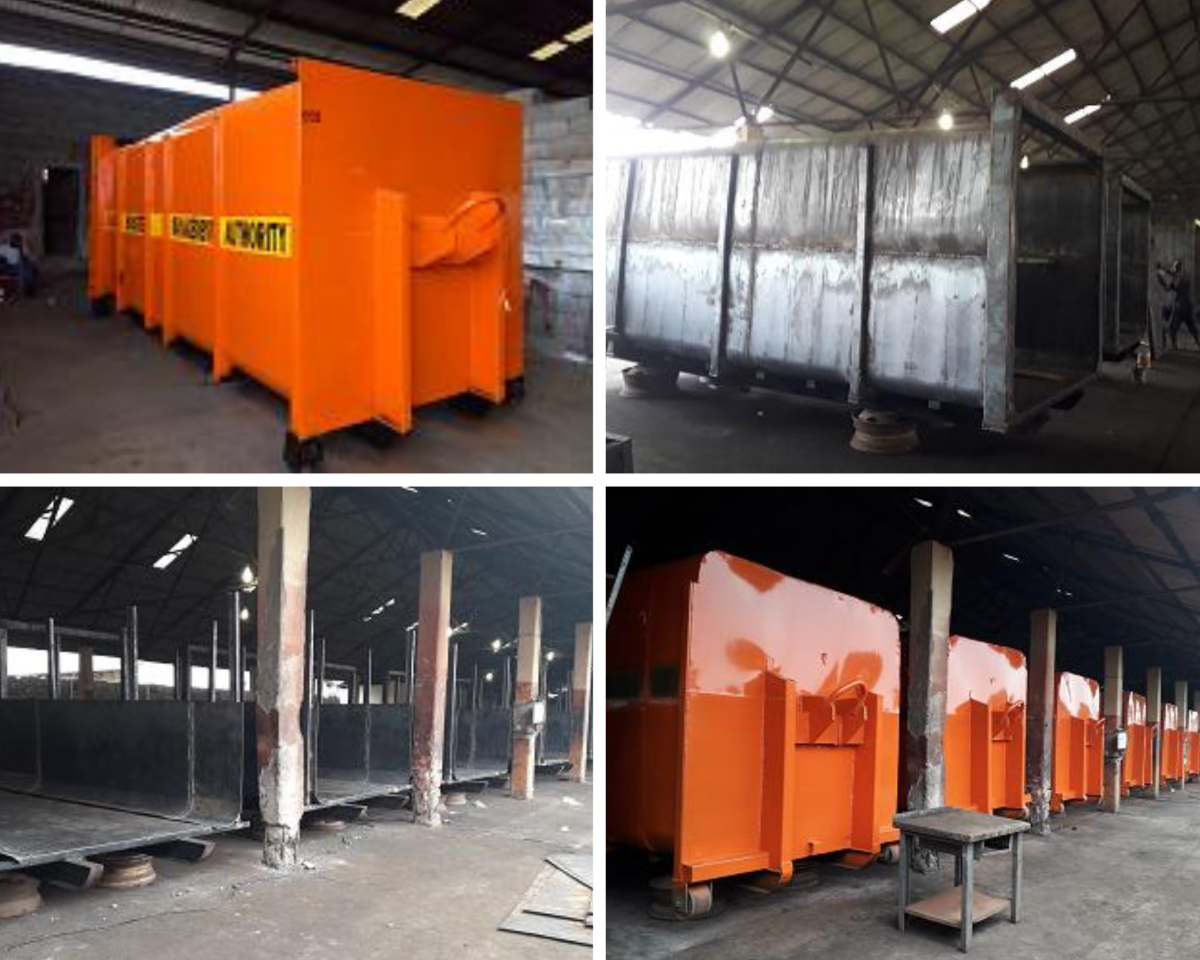 PARTNERSHIP WITH CORPORATE BODIES
LAWMA, within the period under review, partnered various corporate bodies on projects targeted at making the environment cleaner and healthier for residents in the state.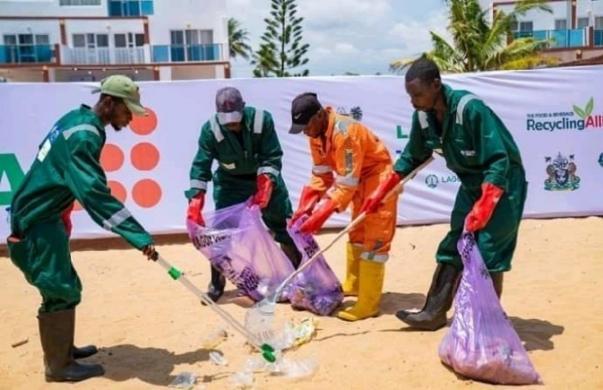 COMMUNITY ADVOCACY CAMPAIGNS
The Authority has embarked on massive door-to-door advocacy campaigns across the state, to sensitize residents and community leaders on effective waste management, motivating them to bag their wastes properly, shun indiscriminate refuse disposal and to patronize only assigned PSP operators.
AGBOWA BRIQUETTE PLANT
The project was to support the construction of the relocation of
Okobaba Sawmill to Agbowa to promote recycling of the byproducts(sawdust) of their activities and prevent environmental pollution resulting from incessant burning of the sawdust. This fits nicely into circular bio-economy approaches that aim to reduce waste and spur more sustainable bio-resources and market-based practices, while sustaining rural-urban linkages.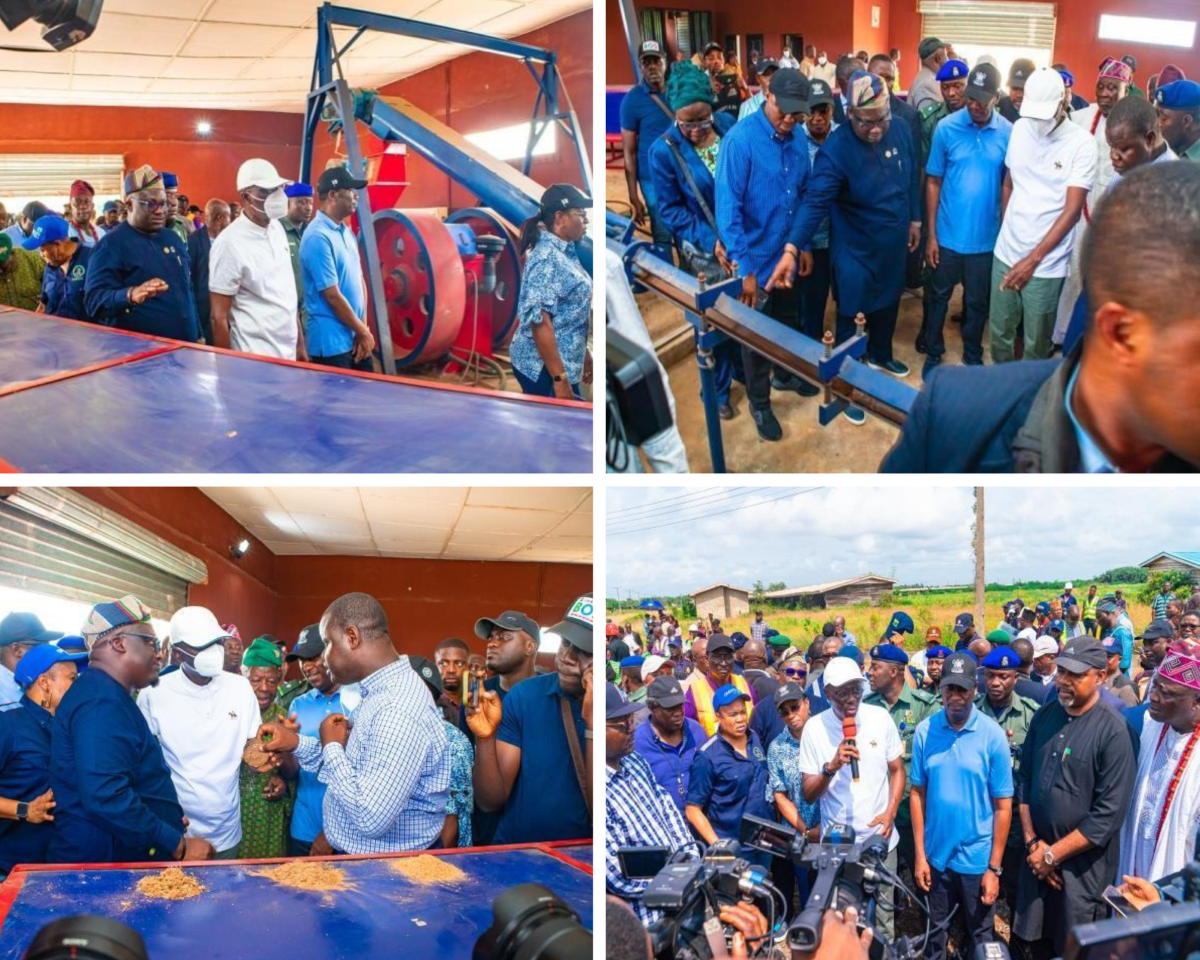 CLEAN-UP ACTIVITIES
LAWMA in partnership with private organisations and some Non- Governmental Organisations routinely carry out clean-up of riverine communities, beaches, shorelines and selected areas that require clean- up intervention to achieve a consistently cleaner environment.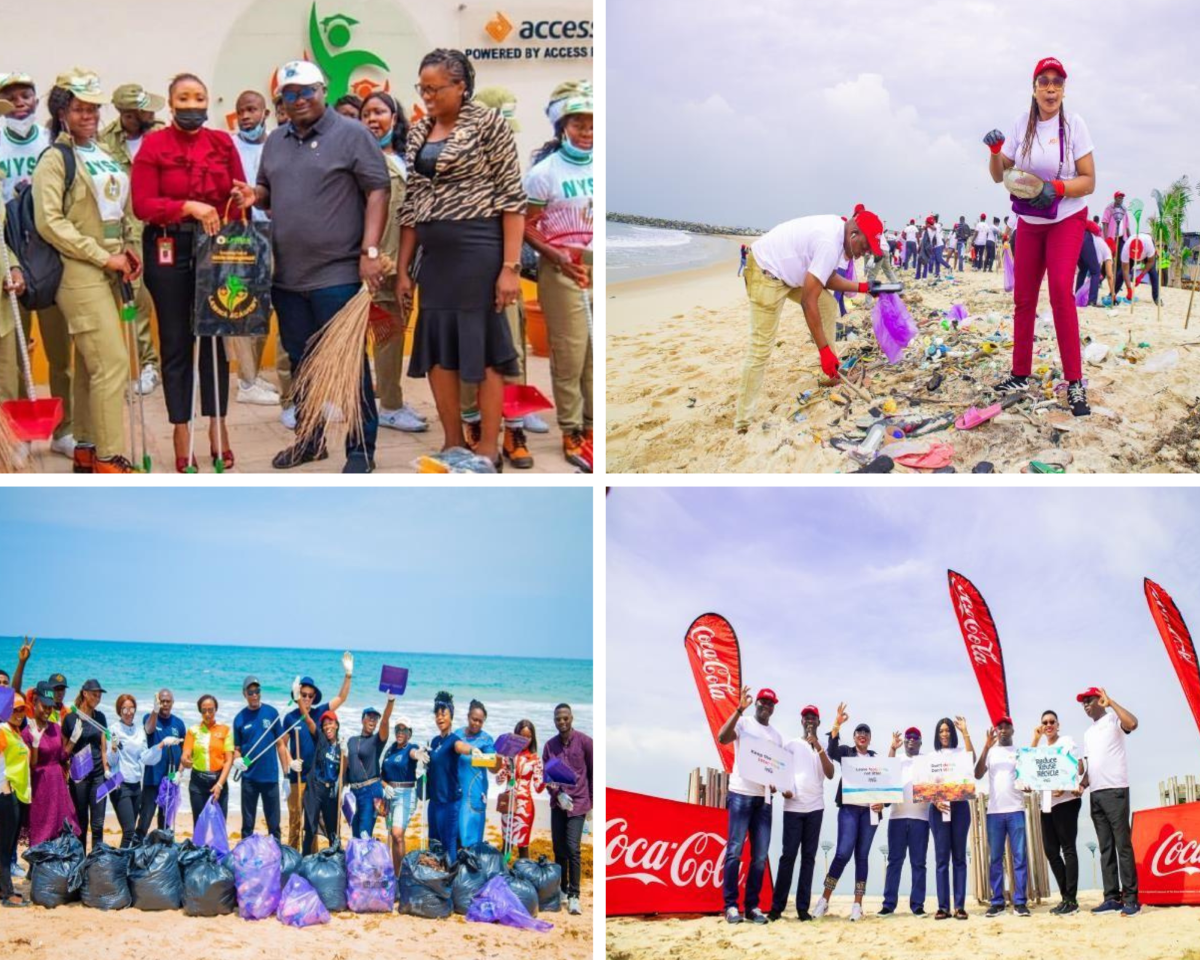 NIGHT OPERATIONS
In a bid to enhance evacuation of black spots and monitor activities of LAWMA's night operators, the Managing Director/CEO of LAWMA, Mr. Ibrahim Odumboni, and other senior management team members, engage in night monitoring across the State. This continuous exercise has yielded tremendous positive results.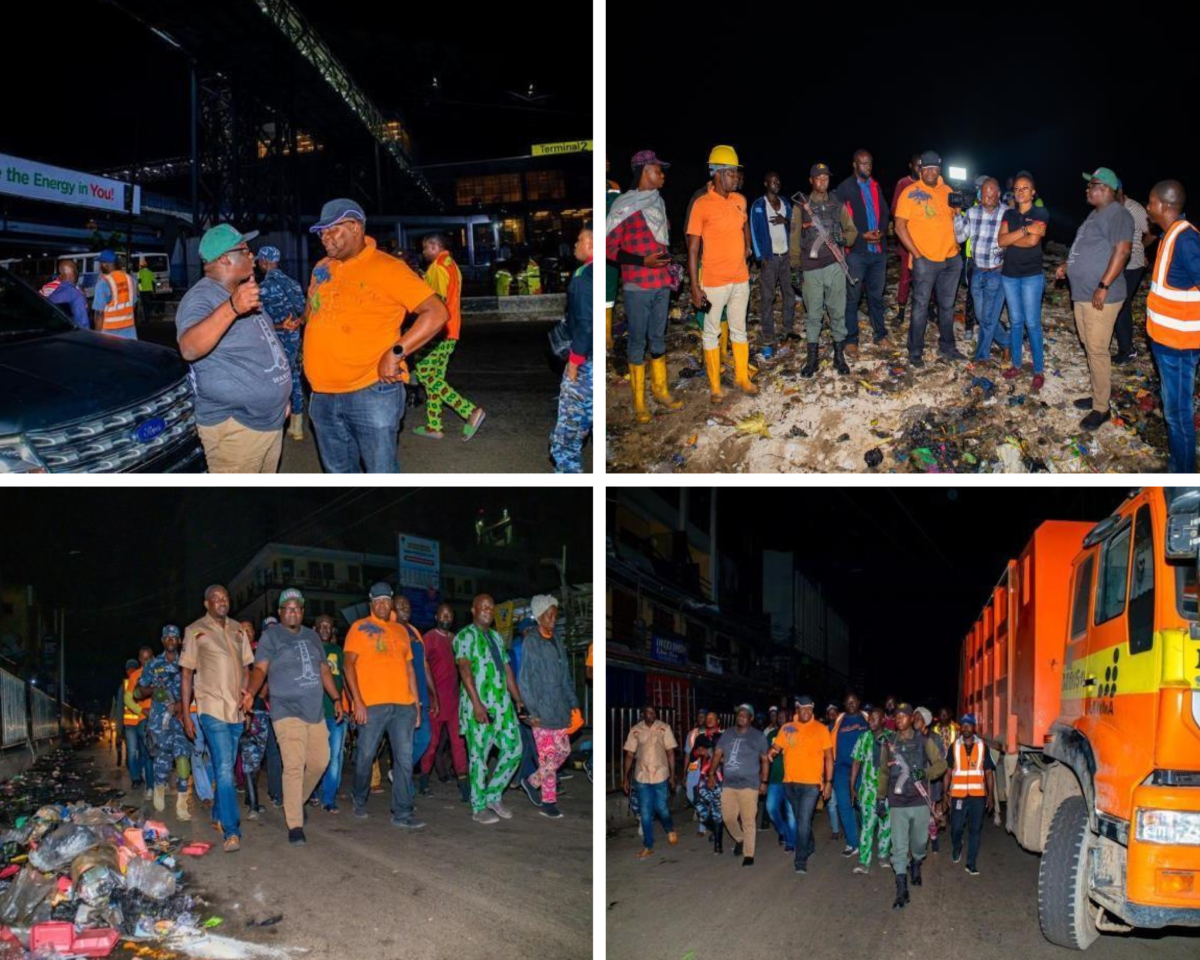 RECENT ACHIEVEMENTS OF LAWMA
• Recycling companies in the state grew from three to 78, with over 6,000 jobs created
• 590 Marine Waste jobs were created, with the personnel engagedincleaning of shorelines and canals
• Collaboration with the Lagos State Universal Basic Education Board, (LASUBEB) to promote environmental sustainability among school children, via LAWMA Academy
• Five-year franchise agreement with the 437 PSP operators
• Commissioning of 102 brand new waste collection trucks and 100double dino bins
• Launch of the "Adopt-a-Bin" programme
• 1061 people were engaged in enforcement and waste policing unit
• Issuance of Insurance cheques to highway sweepers, involved inworkplace accidents
• Full rehabilitation of landfills, to achieve faster turn-around time andeasy access by waste disposal trucks.
• 16,489 street sweepers and supervisors were engaged
• 3,500 sweepers worked with Highway managers
• In-house fabrication of double dino bins for market waste collectionand other black spots
• Massive community advocacy across LGAs and LCDAs
PRINCIPAL OFFICERS
1. Mr. Ibrahim Odumboni
MD/CEO
2. Mr. Kunle Adebiyi
Executive Director (Finance)
3. Dr. Tijani Olorunwa
Chief Technical Officer
4. Mr. Taoreed Dosunmu
Assistant General Manager, Admin & HR
5. Mrs. R.B Adeniran
Head, Procurement
6. Mrs. Folashade Kadiri
Head, Public Affairs
7. Mr. Sunday Osekita
Internal Auditor
8. Mr. Oluwakemi J. Alao
District Head (Central I)
9. Mr. Oluwakemi Sulaiman
AGM, Special Duties
10. Ms. Zakinat Ranti Dosunmu
Deputy Director, Admin & HR (Admin)
11. Dr. Essien Nsuabia
AGM, Investment & Sustainability
12. Mrs. Bola Adewumi
District Head (East II)
13. Mrs. Tawa Oyekanmi
District Head (West II)
14. Mrs. Jalilat Adeniran
Financial Controller
15. Mr. Akinwale Adesina
District Head (West I)
16. Mr. Wale Adesina
District Head (East I)
17. Mrs. Abimbola Opayemi
Head, Performance Management
18. Mr. Tosin Dada
Head, Monitoring & Business Development (West I&II)
19. Mr. Olaniyan Oluwatosin
Head, ICT
20. Mrs. Saka Olaide
Assistant Director, Admin & HR (HR)
21. Engr. Abimbola Ajayi
AGM, Engineering Services
22. Mrs. Jirinsola Ladipo
Head, Business Development
23. Mr. Rilwan Uthman
Head, Legal Services
24. Dr. Lukman Anjolaiya
Head, Technical
25. Mr. Shitta Abiodun Olayinka
Deputy Head, Internal Audit
26. Mrs. Babatunde Lydia O. Head, Budget & Planning
27. Mrs. Sherifat Tijani
Revenue Controller
28. Mrs. Ademola Elizabeth
Head, Waste Management Development
29. Mr. Olasheni Idris
District Head (Central II)
30. Mr. Taiwo Akinyosoye
Head, Monitoring & Business Development (East I&II)
31. Mr. Idowu Sanni
Head, Monitoring & Enforcement